Main content starts here, tab to start navigating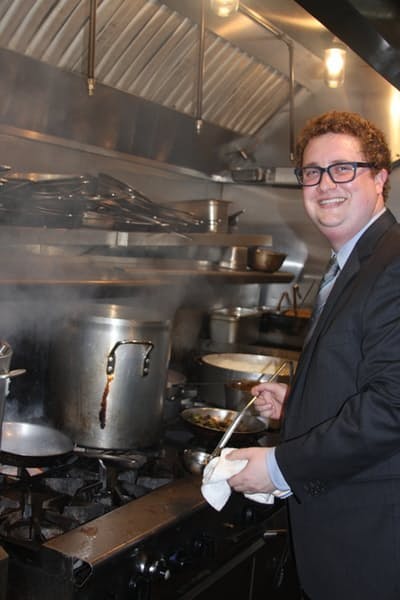 Ryan Roman
Owner
Following the adage that the pen is mightier than the sword, Ryan Roman cuts all of his steaks with a pen. A Miami native, Roman began writing about food and restaurants in 2009, with the launch of his blog, Miami's Restaurant Power Rankings. Roman also contributes as a columnist for Edible South Florida. When he is not writing about food, he is a practicing attorney with the law firm Akerman LLP.
Roman first met chef Daniel Serfer after becoming a regular at Blue Collar, but perhaps the more compelling story is when the two didn't meet. Unbeknownst to Roman, Serfer would read Roman's blog while laboring away in a kitchen in New York City, during a short absence from the Miami culinary scene. Operating under the misimpression that the namesake "power rankings" on the blog were the result of some scientific algorithm, as opposed to one person's arbitrary opinion, Serfer dreamed of opening his own restaurant back in Miami and achieving a spot on the rankings. When Blue Collar opened, Serfer invited Roman to a media preview, having pushed his public relations company to free up one extra seat. The stars were aligned for the two to meet and for their friendship to begin.
Roman declined the invitation. Unaware of the backstory that Serfer had created in his head, and generally preferring to avoid what he perceived as freebie meals, Roman saw the invitation as just another piece of PR material for the circular filing cabinet.
But unlike Sharknado, this story has a happy ending. Roman discovered Blue Collar in due time, falling for its emphasis on comfort food, its homey vibe, and its friendly staff.
After developing a friendship during which time Roman served as best man at Serfer's wedding and godfather to Serfer's firstborn child (who is affectionately referred to as Steak), and during which time Roman's fear of commitment made it impossible for him to return such favors to Serfer, the two conspired to open Mignonette.
Mignonette is an oyster bar with an approachable, fun environment where patrons can enjoy a dozen oysters, a bottle of champagne, classic seafood preparations like Oysters Rockefeller and Clams Casino, and a kickass prime rib. Sharing the same DNA as Blue Collar, Mignonette is casual yet classy. Plain and fancy, as we like to say.